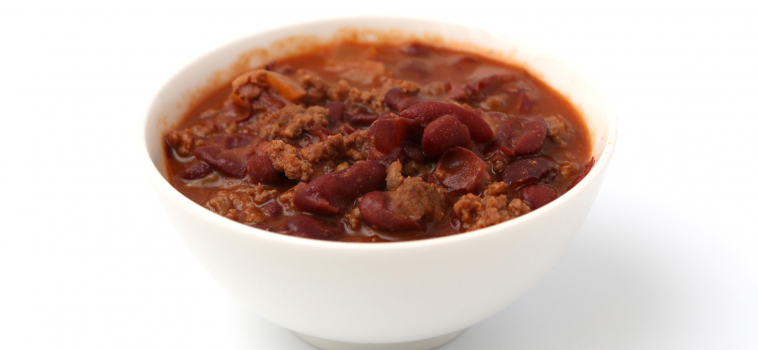 The key to enjoying the cooking process is to keep it simple. You will be amazed by what delicious dishes you can throw together in no time. It's a good idea to start by finding recipes and then you can modify them as you wish to make them your own.
Take this chili recipe for example – Beef & Bean Chile Verde. It is a super simple recipe that can be modified as much or as little as you'd like.  The great thing about making chili is that you can just throw in a bunch of ingredients together and it will usually come out pretty delicious. You also have the option to use a sauce pan or a slow cooker (for even more flavor). Slow cookers are perfect for the busy parent because you can leave them on low for several hours and then come home to a nice meal!
For our Chili Recipe, you will need:
1 pound 93%-lean ground beef (grass fed if possible)
1 large red bell pepper, chopped
1 large onion, chopped
6 cloves garlic, chopped
1-2 Tbsp Spices of choice
Some options are:

Chili powder
Black Pepper
Turmeric
Ground Cumin

1 16 Ounce Jar of Tomato Sauce – We recommend W

egmans Italian Classics Pasta Sauce, Grandpa's Sauce

1/4 cup water
1 can of any beans (kidney or pinto)
1 Tbsp. Olive Oil
Here's how to make it:
Season the beef however you wish and brown in a large pan on medium to high heat. .
Remove beef and in same pan add some olive oil.
Throw in garlic and sauté for a few minutes in low to medium heat.
Add in chopped pepper and onion, sauté for a few minutes until translucent.
Add choice of beans and sauté.
After a few minutes add beef back in.
Let cook for several minutes while mixing.
Add sauce.
Fill jar up half way with water, seal, shake, and add to mixture.
Place top on pan and cook for 10-15 minutes on low.
Enjoy!
This recipe makes 4 servings.
Chili can be a nutrient packed meal! You get your protein from the ground beef, and if you choose grass fed, you'll be getting even more vitamins, minerals and healthy fats! The beans add fiber which will help keep you full, and any veggies are (of course) always a healthy addition.
What's great about this recipe is that if you leave in fridge overnight, it will taste even better the next day because the ingredients blend together.
Experiment to find what you like. Trust us on this one, cannot go wrong with this recipe!
Were you looking for a more personalized diet plan? We have a nutritionist on staff to help you with that! Contact us today for more information.